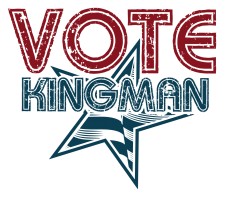 Vote Kingman Nominated for Coveted Arizona Association of Economic Development Golden Prospector Award
KINGMAN, Ariz., September 27, 2017 (Newswire.com) - The City of Kingman was in a state of transition with an election for a new majority on city council up for grabs. The community itself was divided, experiencing the tipping point that rapid growth often brings to small cities and towns. Natives and long-time residents had conducted election campaigns through the political party system for decades; all but eliminating the involvement of the independent and undecided voters. At a time when many felt helpless in the results of the national election, one grassroots effort would completely transform the local campaign structure as well as the trajectory for the community overall.
Vote Kingman (an initiative developed and managed by Ignite Brand Marketing) was created primarily to enhance the accessibility of the City Council candidates to those in the community who may not historically have participated in elections in the past. Forums and debates were brought into the community itself; being conducted in local bars, parks and other venues. Outside consultants and thought leaders were invited to speak at luncheons on topics where they had experienced success; topics like downtown revitalization, economic development, and retail development.
In addition to education on key issues, voter registration and turnout was critical to the success of the campaign. By partnering with the Mohave County Registrar's office, Vote Kingman utilized social media to generate interest and awareness regarding the voter registration process, the voting process and the importance of the roles of the City Council and Mayoral candidates.
The results of the Vote Kingman campaign have garnered statewide recognition with a recent nomination from the Arizona Association of Economic Development for the 2017 Golden Prospector Award (a second for Ignite Brand Marketing, with a win in 2016 for the Kingman Circle tourism campaign). By the August Primary Election in 2016, more than 1200 new voters had registered county-wide and by November, interest in the election had spread across the community. A new generation of voters with an interest in the growth of Kingman came out en masse to vote. 10,700 votes were cast in the Mayoral election alone, up from 3700 in the previous Mayoral election.
A year after this record-setting election. the City of Kingman has experienced an increase in general interest regarding local issues, inspiring better attendance at City Commission meetings and more involvement in City Council meetings and events.
For more information on Kingman, Arizona visit https://kingmancircle.com. For information on grassroots campaign development, visit http://www.ignitebrandmarketing.com.
Source: Ignite Brand Marketing
Share: