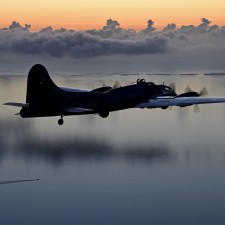 EAA Chapter #765 will host an aviation event of historic proportions this February.
Kingman, AZ, February 1, 2017 (Newswire.com) - The year was 1943 and Kingman, AZ was about to play an integral part in the bombing history of World War II. Kingman Army Air Field, with its miles of open spaces and sparse nearby population became one of the Army Air Corps' largest; training over 35,000 of America's bravest, many that would serve as B-17 "Flying Fortress" gunners. Some would depart aboard a B-17 that would fly in over 200 bombing missions — More than 4,700 B-17's would not return from combat. Although the sight of so many military aircraft would have been magnificent, over 5,400 WWII aircraft would eventually return to Kingman; reduced to 46 million pounds of dismantled and recycled aluminum, with only bits of sheet metal and small engine remnants remaining hidden in the desert to discover for years to come. 
With a crew of ten including a Pilot, Co-pilot, Navigator, Bombardier, Flight Engineer, Radio Operator, 2 Waist Gunners, a Tail Gunner and a Ball Turret Gunner the B-17 was appropriately nicknamed the "Flying Fortress" by a Seattle reporter commenting on the B-17's extensive firepower; each armed with thirteen Browning M-2 .50 caliber machine guns. Although B-17 production tapped around 12,700 in the 1940's, less than a dozen of these magnificent war planes are in existence and even less still grace the skies. 
When everything seems to be going against you, remember that the airplane takes off against the wind, not with it.
Kingman's aviation history and involvement in WWII makes an upcoming event being organized and brought to Kingman, AZ by the local Experimental Aircraft Association #765 extremely exciting. A rare B-17 bomber, owned and operated by EAA in Oshkosh, Wisconsin, will be making a stop locally as part of its nationwide tour that salutes those veterans and helps the public discover its great history. The Aluminum Overcast, named in honor of a term coined by a wartime reporter who witnessed the flying armada of bombers overhead and remarked on the "aluminum overcast" that would soon be flying over Germany will be at Kingman Airport from Feb 17-Feb 19, 2017. All are invited to see and fly in this historic aircraft.
This particular airplane had an interesting life before arriving at EAA in 1981. The bomber was built in 1944 and was delivered to the U.S. Army at the end of World War II. It was eventually sold as surplus for just $750, and spent nearly 40 years doing assorted jobs ranging from a firebomber in the western United States to a mapping aircraft over the Middle East.
In the late 1970s, the aircraft was purchased by an Oklahoma group to be restored as a World War II bomber. Time and finances were against the private group, though, so it donated the aircraft to EAA in 1981 with the provision it be restored to flying status. It took EAA more than a decade to fully restore the airplane, which then began its national tours in 1994. The aircraft is now more than 90 percent accurate to its wartime construction, with allowances for updated technology in such areas as navigation and brakes.
More information about the Aluminum Overcast's history and how Mohave County residents can tour and fly in this historic bomber is available at www.b17.org. The airplane's stop in this area is supported by the volunteer efforts of local EAA Chapter #765 members and other WWII and aviation enthusiasts.
Source: EAA Chapter #765
Share: