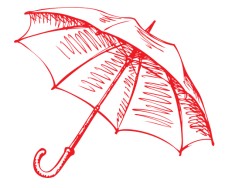 Kingman, AZ, January 30, 2017 (Newswire.com) - There's a new buzzword in the ever-evolving world of marketing, and it's changing to-market strategies across the country. Umbrella marketing, pioneered by Ignite Brand Marketing, is a cost-cutting strategy that integrates an outside agency into daily operations; streamlining marketing, advertising, brand strategy and design. This strategy is rapidly growing in popularity among companies with corporate offices in locations that experience a similar set of challenges when staffing a full-service marketing department.
Mid to large size companies often select smaller communities for their corporate offices due to economies of scale, distribution opportunities, and/or tax incentives but often struggle staffing a capable workforce; especially in executive level positions. Marketing departments tend to be one of the most difficult to staff in rural communities due to a wide scope of responsibilities—sales, branding, product development/strategy, advertising, design, web, and social media. Small community talent limitations and low educational levels restrict the ability of many corporations to effectively hire a comprehensive marketing department. This leads to piecemeal outsourcing of different areas of marketing, which can cause an inconsistent, non-strategic message to the marketplace.
To compound issues with recruiting, changes in requirements to employee benefits have significantly increased the cost of running a business. Should a company be able to staff a marketing department, the overhead costs of salaries and benefits can be astronomical. Totaling up the average salary of a design team, a marketing manager/strategist, a project manager, a content writer, a social media manager and a web team, corporations are often looking at cost well above $350,000/year. Add to that the costs of print production, ad placement and event marketing and a return on investment begins to seem unlikely.
Umbrella marketing has become the solution for niche companies in similar situations. Dedicated marketing teams are assigned to clients based on background and experience with services that span from strategic planning to design and ad placement. All vendor interaction, design and implementation is housed under one roof, off-site from the corporation providing a significant cut in overhead and enhanced efficiency. Additionally, by fully utilizing umbrella marketing, corporations are seeing an increased competitive advantage in their industry given the reduction in overhead; a consistent marketing message; and strategic plan execution for their products and services. For more information on Umbrella Marketing, go to www.ignitebrandmarketing.com. 
Source: Ignite Brand Marketing
Share: